CSC Digital Seva Portal : In our country, there are many people who cannot apply themselves to various government programs. For all these people, the government has instituted CSC Digital Seva Kendra. In this article we will give all the details about CSC Digital Seva Kendra as Eligibility Criteria, Required Documents, Application Process, CSC Status, CSC login, CSC Registration, CSC Helpline Number by csc digital seva etc. So, if you are interested in knowing every detail about CSC Digital Center, then you must read this article carefully till the end.
Who can open CSC Digital Seva Kendra?
Any Indian citizen who has passed Class 10 can unlock CSC. However, to successfully open a CSC, one must obtain a Telecentre Entrepreneur Certificate (TEC). Courses can be taken online and a certificate will be issued upon passing the exam. This certificate is then used to apply for a CSC opening.
Applicants Eligibility Criteria for Opening CSC Center –
Should Be a citizen of the same region where you want to open CSC Digital Seva Kendra (proof of residence required)
Minimum age 18 years and over
Have a valid number, email id and bank account
Have at least 10th pass from a recognized body (and have 10th test together with other education certificates)
You will have proof of identity such as Aadhaar card, passport photo and PAN card
Get an overview of the CSC Pusat Center
Anyone can open a CSC as long as they meet these criteria. Opening a CSC is a very noble business idea because it can help you improve the lives of many people by providing basic services that they cannot use on their own.
How to Pay Traffic Challan Online in Maharashtra | Check E-Challan Status
Services Offered by CSC or Digital Seva Portal
AADHAAR
Aadhaar Demographic Update
Aadhaar Mobile Update
Best Finger Detection
Aadhaar eKYC PVC Print
AGRICULTURE
Agricultural Machine Store
Online Store
Farmer Registration
Marketplace
BANKING AND PENSION
RAP Registration
Basic Banking Course
Life Certificate (LIC)
Pin Pad Device Payment Service
EDUCATION
SCLM Registration
SCLM Admission
Tally Certification
eLegal Consultancy
ELECTION
Punjab Election Services
Uttarakhand Election Services
Meghalaya Election Services
Rajasthan Election Services
ELECTRICITY
Online Bill Payment (Non-RAPDRP)
Online Bill Payment (RAPDRP)
Online Bill Payment
GOVERNMENT
Birth and Death Application
Forest Services
Online FIR
Ration Card Services
HEALTH
Super Speciality Consultation
Telemedicine
Jan Aushadhi Registration
Jiva Telemedine
INSURANCE
Pradhan Mantri Fasal Bima Yojna
Farmer Package Policy
Life Insurance
Personal Accidental
SKILLS
CAD Registration
Self Animation Course
Digital Unnati
Training Courses
TRAVEL
Darshan Booking
Bus Ticket Booking
Flight Tickets
Bus Tickets
OTHERS
PVC Card and Biometric Device
Pradhan Mantri Awas Yojana
Jeeevan Pramaan
NIELIT Facilitation Centre
How to get CSC TEC Number?
You will need to provide all the required information and upload a passport-sized photo.
Once you submit the form, you will receive a username and password on your email.
Use this to login to the CSC TEC portal and complete your assessment.
Note that you need to pay a fee of around 1500 rupees to take the exam and receive your certificate.
If you have already qualified for the CSC TEC exam and received your certificate, you can proceed with new CSC registration.
How to register for CSC or Digital Seva Kendra?
To register for CSC or Digital Seva, you must have to follow below steps: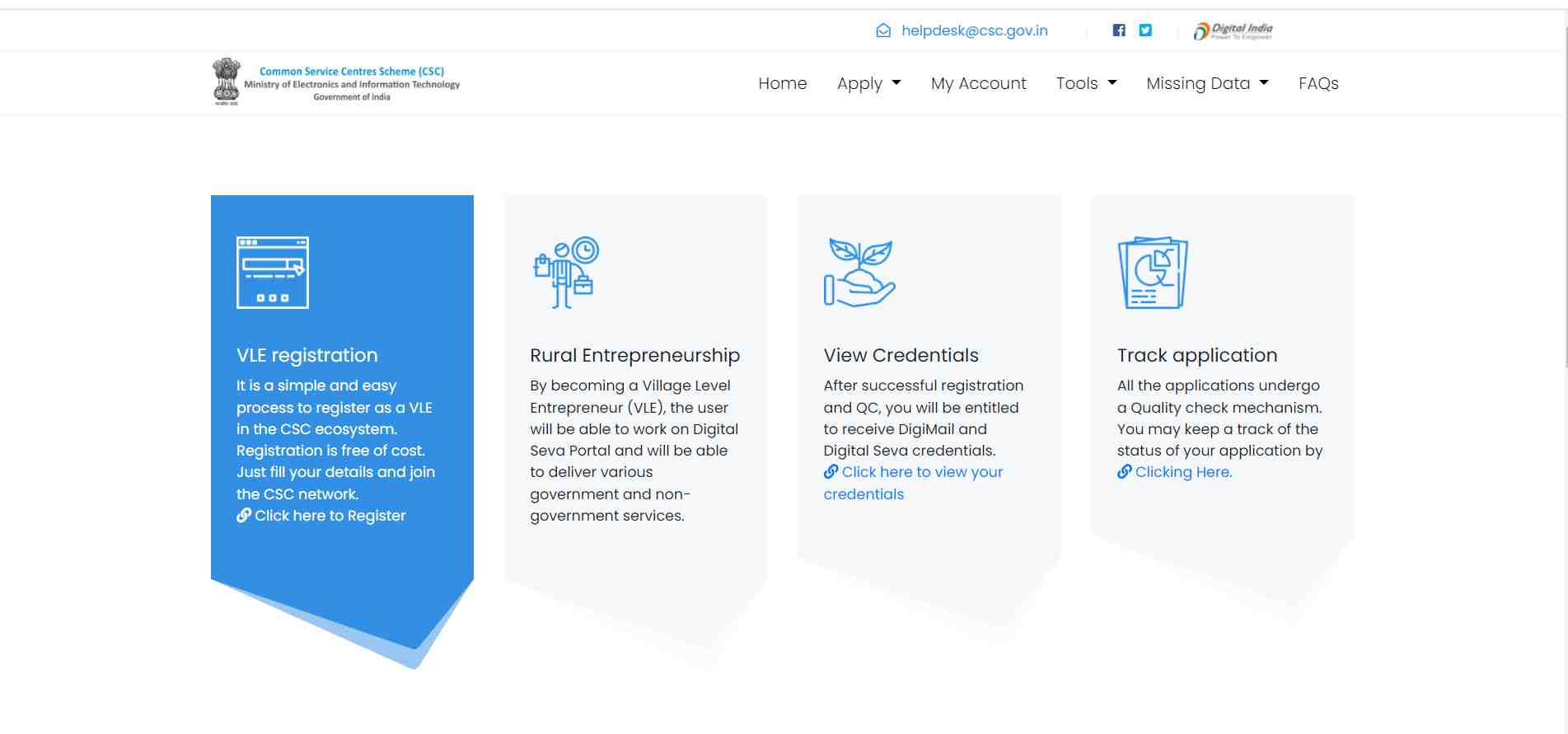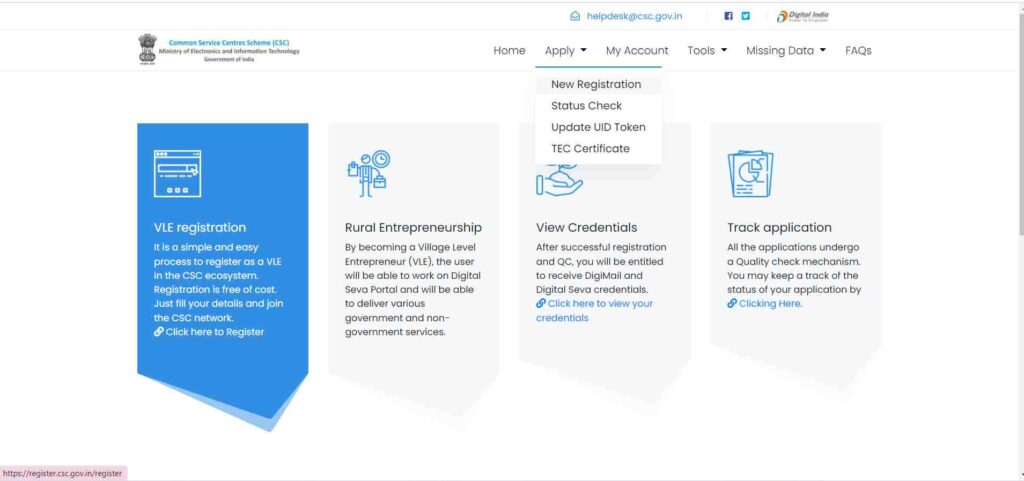 Step 3- A new page will open. Select the desired application type.
Step 4- Fill your TEC Certificate Number, Mobile Number and Captcha Code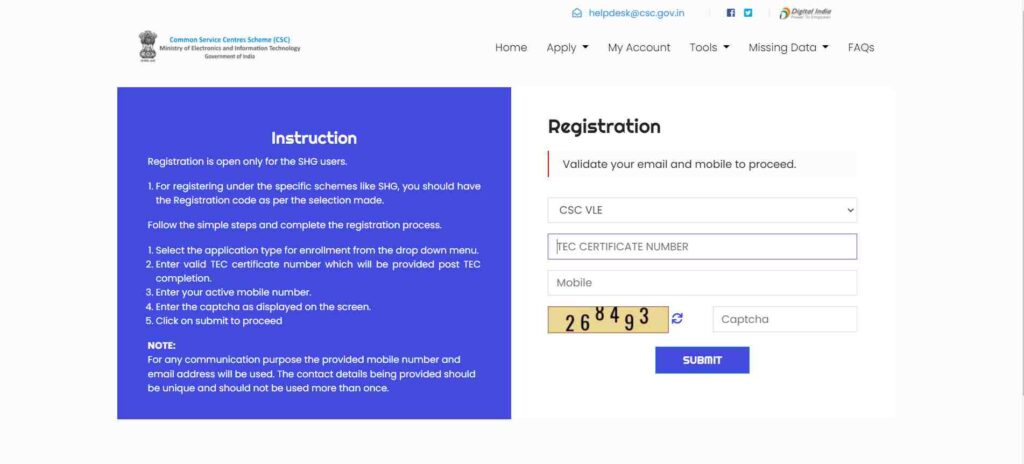 Step 5- Click the submit button.
Step 6- An application form will appear.
Step 7- Fill out the required details such as your name, address, bank account information and so on.
Step 8- Click the next button.
Step 9- Enter bank account details in the form.
Step 10- Upload the required documents (PAN, Aadhaar card, bank passport), as detailed by the website.
Step 11- Click the next button.
Step 12- Fill in the required details.
Step 13- Click the submit button.
Now your application will be successfully submitted for evaluation.
CSC Login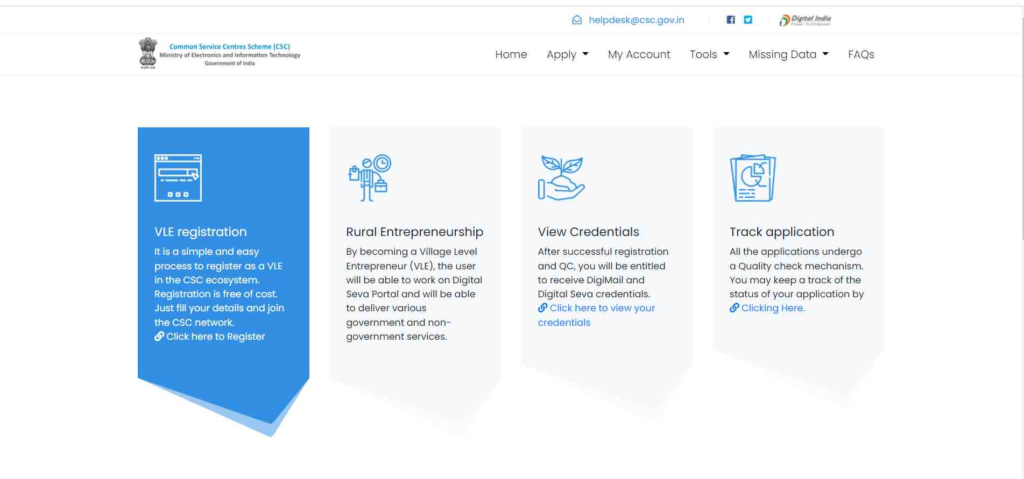 Step 2- Click on 'My Account'
Step 3- Enter your 12 digit CSC ID.
Step 4- Select Modality
Step 5- Enter captcha.
Step 6- Check consent
Step 7- Submit to proceed.
By following these steps you can login on the portal
CSC Status Check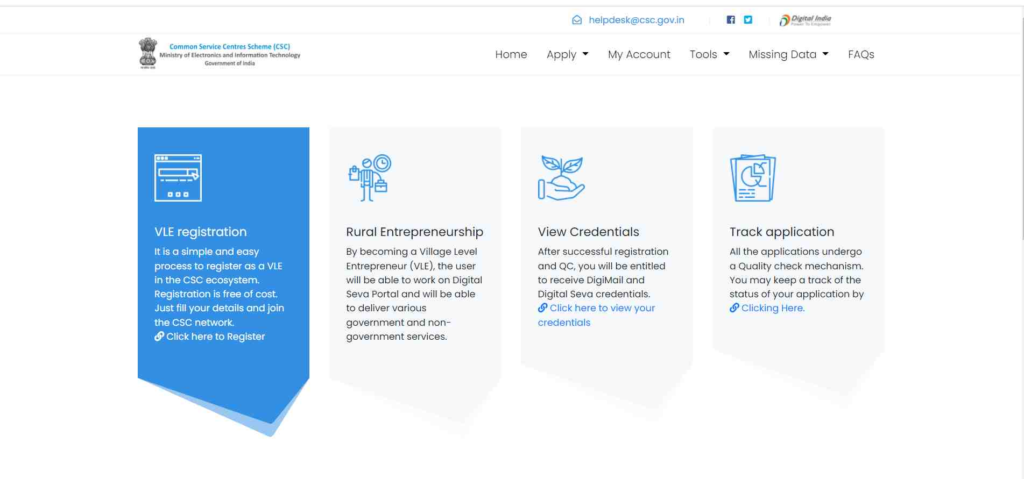 Step 2- Click on 'Apply'.
Step 3- Click on 'Status Check' under Apply
Step 4- Enter the application reference number that was shared on your email address post the submission of the application form.
Step 5- Enter captcha.
Step 6- Proceed to click on submit.
Required gadgets to open a CSC Kendra
Internet connection with a minimum speed of 128 kbps for surfing and uploading data via the Internet.
A computer with at least 512 MB of RAM for fast calculations and at least four hours of battery backup. The computer must also have at least 120 GB of memory. Must be running a licensed operating system).
Webcam and digital camera
CD/DVD Drive
Scanner
Printer
A computer with at least 512 MB RAM for fast computing and a minimum battery backup of four hours. The computer should also have a minimum memory of 120GB. It should run on a licensed operating system).
CSC Helpline Number
Toll Free Number- 18001213468
Email Id- helpdesk@csc.gov.in